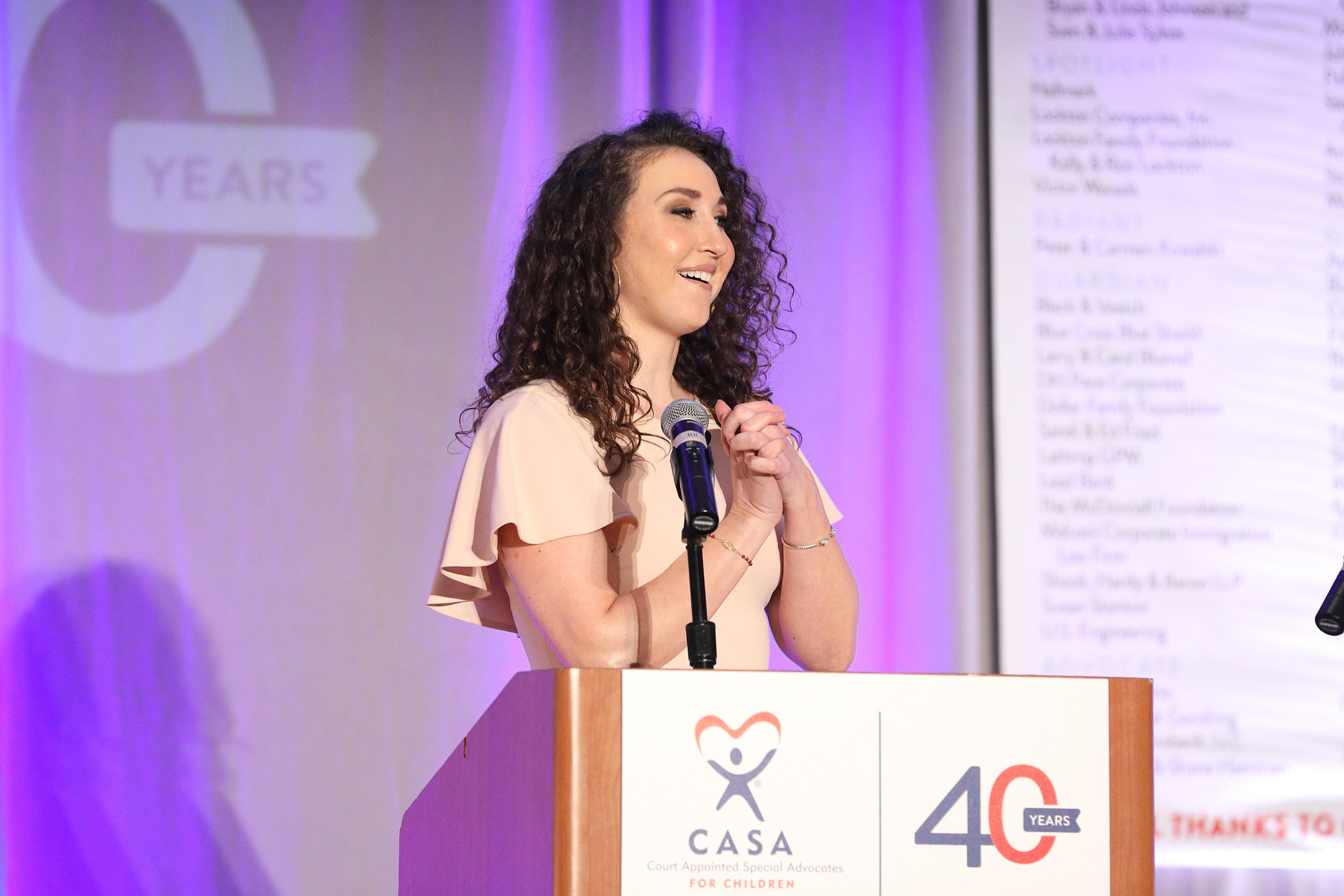 A Tremendous Anniversary Celebration!
We welcomed a packed ballroom for the 23rd Annual Light of Hope breakfast on Thursday, April 20th! Together we celebrated 40 years of CASA caring for kids since our founding in 1983 by members of the Kansas City chapter of the National Council of Jewish Women, many of whom provide vital support to CASA to this day! We are humbled and grateful for the tremendous support for Jackson County CASA shown by our sponsors and guests. Donations are still coming in, but the combination of sponsorships and donations so far has exceeded $285,000! Help us exceed $300,000 by making your donation today!
CASA Board Chair John Vaglio, whose CASA connection dates back 20 years, issued a strong call for Volunteer service. Honorary Chair Jeff Blaesing explained how JE Dunn incorporated the mission and purpose of CASA to create a child-friendly, accessible space for CASA Staff and Volunteers. We celebrated the dedication of CASA Volunteer Bill Nelson who received the Teresa Rabideau Award for Volunteer Excellence. And CASA President and CEO Angie Blumel surprised the audience by naming CASA Volunteers the collective 2023 Light of Hope Award recipients. Lastly, our keynote speaker Gabriella Pagán shared her personal reasons for becoming a CASA Volunteer and reminded us that all children need hope.
We want to thank our many generous sponsors who support our work. We welcomed Jake Jacobson as our Master of Ceremonies for the first time since John Holt had a conflicting engagement. Thank you to Mayor Quinton Lucas for sending welcoming remarks. We especially appreciate the leadership of our Light of Hope Host Committee for recruiting sponsors and filling the ballroom.
Weren't Able to Join Us?
The tribute to Bill Nelson is available on our YouTube channel and video of the entire breakfast will be available on our website on our YouTube channel soon. Please do watch and share it widely!
3 Ways to Donate
You can still donate to Jackson County CASA:
by using the DONATE button below, or
by mailing a check: Jackson County CASA, 2544 Holmes, Kansas City, MO 64108